You've been applying for IT positions and the resumes you have floating out there finally caught someone's eye.
Or, even better, a referral got your name and contact information in the hands of a recruiter.
Either way, congratulations on getting past the first hurdle towards a new job!
The recruiter is going to have some questions for you, but you should have some questions for them as well. Don't waste time asking your recruiter questions you could easily find the answers to with some internet research. Take advantage of the valuable opportunity to gather intelligence to assist you in later rounds of interviews and making decisions about your career opportunities.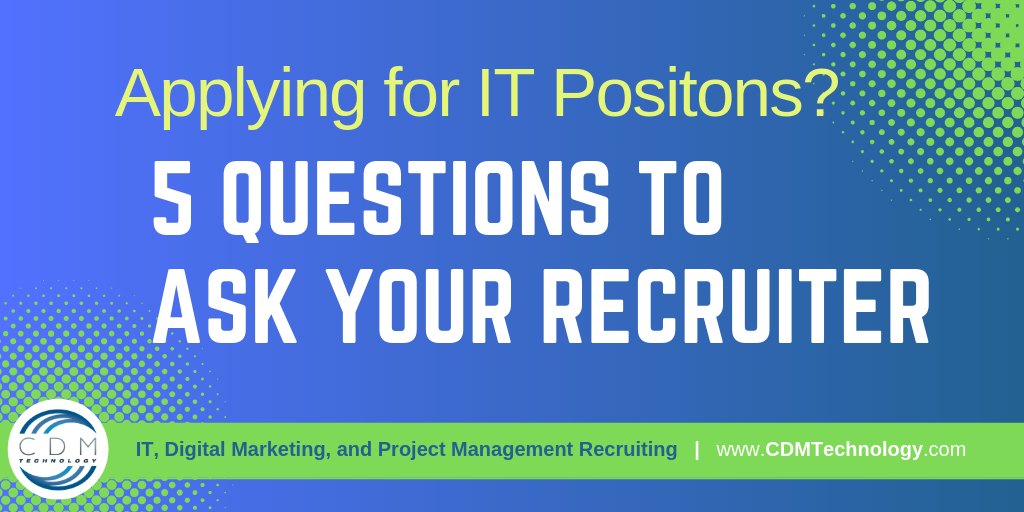 5 Questions to Ask Your Recruiter
Recruiters are usually the first contact in a long process so asking the right questions is a great way to make a good impression, and it also ensures you get the important information you need to make clear choices about career opportunities your considering.
1. How does the company screen candidates on tech skills?
It's tough to be prepared to compete for a position when you don't know what to expect from the interview process. Ask your recruiter how your tech skills are tested during the interview process with questions like:
Are tech skills only discussed during the interview, or will there be any whiteboarding or skill assessments?
What topics does the tech portion of the interview typically focus on?
What could I brush up on ahead of the interview?
Additionally, you'll greatly benefit from knowing the interview process for any position and a timeline for tasks (like interviews and background checks) and decisions (like you've got the job). Sometimes you meet the recruiter, meet the boss, and have a decision in a few days. The other extreme is weeks of forms, several interviews, and even a test or two. Knowing what to expect, you can make a quick judgment on whether or not this position is worth the effort.
2. What does the hiring manager consider are the three most important skills for this position?
You'll have a job description that gives a long list of responsibilities, but it is important to know what matters most to the people doing the hiring. Degrees, certifications, and tech skills might not be the deciders when there is a large pool of equally qualified candidates to choose from. Knowing the deal-breakers and where they fall in your skillset and wish list for a new position will help you make a better decision on whether or not this is the right position for you.
3. What can you tell me about the culture of this company/location?
A good recruiter gets open positions filled fast, but the best recruiters make sure they get the right person, in the right job. Part of that is ensuring your personality works with the culture already in place.
Some people can only work in a jeans-and-hoodie environment, and some require a more formal atmosphere to perform at their best. If there is a specific environment where you know you'll flourish, then make sure you're asking questions about the culture.
Of course, you should do your own research before talking with the recruiter – both online and with others you know in the industry – but getting an insider opinion on how you'll fit the company culture is invaluable.
4. What does the team this position belong to look like?
Ask about the team or organizational chart around the position you are interviewing for. Get specific names when possible so you can research people you'd be working with. Getting familiar with key members of the team and finding any commonalities gives you leverage in the interview that other candidates will lack.
Knowing where your position falls in the hierarchy also gives you a strong clue on how you'll be managed if you get the position. Job descriptions are sometimes more an advertisement of how great it is to work for a company than actual descriptions of the job. Are you joining a code farm as one of 50 coders, or working closely with decision makers on core projects? Very different scenarios, so make sure you're asking about the team you're interviewing to join.
5. Do you have a general salary range in mind for this position?
This question is a less aggressive version of "What does it pay?" This is information you need to decide if this position fits your requirements for your next position. A question like, "My previous base salary was $XXX, and I'd like to increase that with my next position. Does that fit in the salary range for this position?" can get you a better idea of pay if the recruiter doesn't have numbers for you.
Compensation matters so it's okay to ask about salary, bonus structure, benefits, and other perks. Especially when things other than the base salary are deal breakers. Let the recruiter know what you're looking for, and they'll have a clearer picture of where you fit with this position and any other employment opportunities they know of.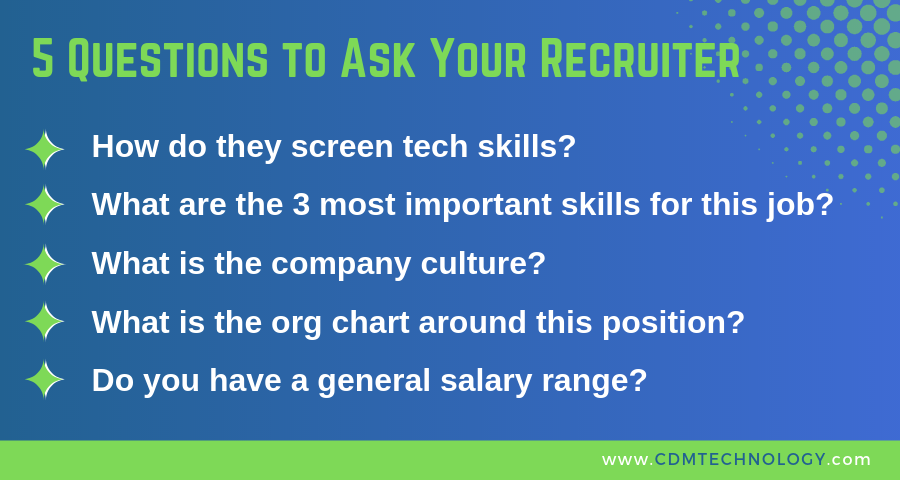 Get to Know Your Recruiter
Meeting with a recruiter is a good sign that they believe you're a strong candidate for a position they have. If you see a window of opportunity, get to know more about the recruiter and the companies they work with. There's a good chance they will be interested in building a relationship with you and helping you find a job elsewhere if this position doesn't work out.
Even if you never contract the services of a recruiter yourself, if you are lucky you might still find yourself interacting with one during your job search. In a tough economy, working with a recruiter will expose you to more career opportunities and help you find the right position for your skills and strengths.
---
Chip Murphy is a co-founder of CDM Technology and has over 19 years in the IT consulting, contracting, and professional search service space. 
CDM Technology is a customer-focused, premier provider of consulting, contracting and recruiting solutions for the IT, Digital Marketing, and Project Management markets. Each company's hiring situations is unique – that's why our use of personalized hiring solutions and a team-based approach take advantage of opportunities that your competitors can't. With over 30 years combined experience in the San Diego IT market and a broad network of top clients and candidates, when you tell us what you need, we put the right type of resource in front of you.