Whether you're building a web development team for a small business or you've been tasked with supporting large scale corporate initiatives, hiring IT professionals to staff your IT projects can be daunting. As businesses use more advanced technology to strategically gain and retain a competitive edge in their market, they are looking to their IT teams to be close partners in helping them achieve those objectives.
Hiring in-house IT professionals to staff these projects can be costly and risky, especially when the IT needs of an organization are constantly changing, and very few businesses have static IT needs. Staffing project teams with IT professionals to handle the technical requirements gives you the flexibility to easily ramp up and down to meet changing demands without adding the cost and liability of hiring full-time employees.
Benefits of Leveraging Technical Contractors and Outsourcing:
Scalability that allows you to add or remove staff resources as needed
Leverage IT industry best practices by using experienced IT professionals
Remove or reduce the training time and cost of developing in-house IT skills
Existing employees can stay focused on core business without added project responsibilities
Improve operating leverage by shifting fixed costs (employees) to variable costs (project costs)
Contract-to-hire structures allow a "try before you buy" advantage and guard against the high cost of a bad hire
How Do You Find the Right Technical Contractors for Your Projects?
It can be a challenge to find IT professionals to successfully execute the technical projects required to launch new initiatives, upgrade old systems, and grow your business. You know how to run your business, but you're probably less knowledgeable about where to find someone to handle technical projects that need technical skills such as coding, mobile design, user experience development, or content migration.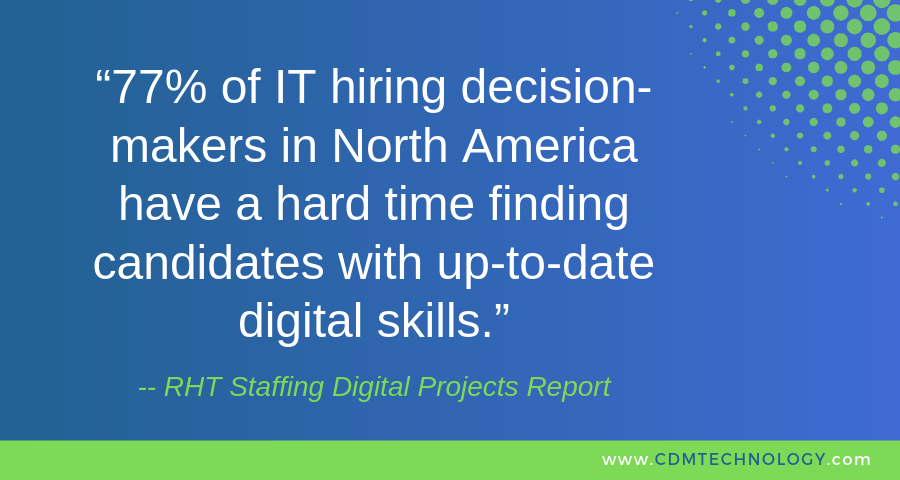 When you need to find the right technical contractor for your business need, a quality recruiter who specializes in the information technology industry can help you figure out what you need, what it may cost, and how easy or difficult it is to find the staffing resources you need.
Supplement Gaps with External Resources
Tapping external resources like project managers, IT consultants, and IT recruiters provide a fresh perspective and keep your projects on track while leveraging project expertise you don't have in-house. Once you've established project goals, budgets, and timelines, well-established recruiters who specialize in IT staffing help you find skilled talent quickly to maximize the outcome of your IT projects.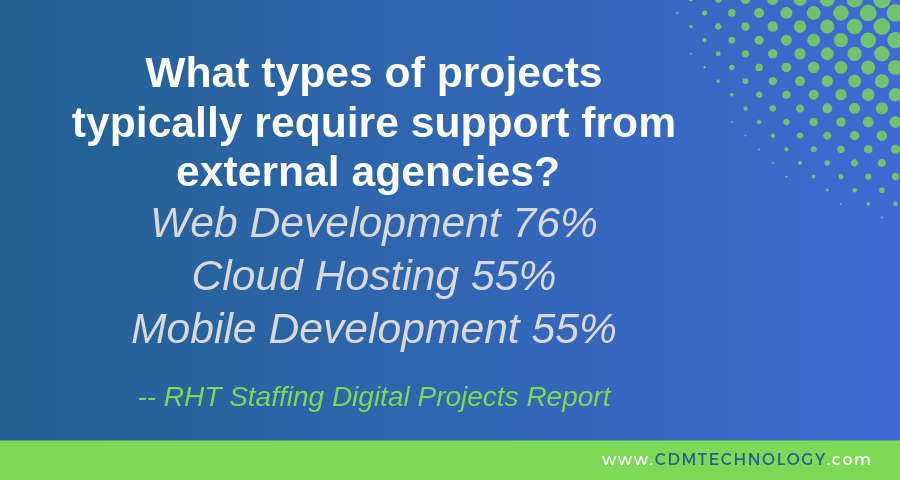 The key to successful projects is finding IT professionals with the right combination of skills and experience to provide technology solutions, whether complex or simple, that drive your business forward.
What Qualities Should You Be Looking for when hiring technical contractors?
IT teams do more today than just maintaining critical systems. The IT professionals working on your project teams need to solve problems and innovate on the fly to support your business goals. That's why you need staffing solutions that provide IT professionals who have the right combination of technical skills, experience, and overall competencies to create productive and agile project teams.
When staffing IT projects, ask yourself:
What skill sets (technical and nontechnical) do I need on this team to accomplish that goal?
Will this project require full-time or part-time IT maintenance once completed?
As the person staffing or managing IT projects, you're looking for self-motivated problem solvers who possess both the technical and soft skills to execute your project plan.
Top Qualities of Technical Project Team Members:
Technical Skills
Communication
Analytical Abilities
Willingness to Learn
Creativity/Innovation
Those unicorns are out there, and the easiest way to find them is with a recruiter who specializes in matching IT candidates to your project needs.
The Best Way to Find Qualified Candidates for Large and Small Technical Projects
As every industry becomes increasingly dependent on technology, there is a greater need for highly specialized technical knowledge that does not exist in-house. Supplementing your team with experienced temporary IT professionals on an as-needed basis makes sense. Additionally, your IT professionals can share their knowledge with existing staff and train your team on maintaining and analyzing new systems and processes.
Depending on your business needs, you may need to hire permanent employees, freelancers, or a combination of both and IT recruiters have access to experienced IT project professionals and freelancers at their fingertips. These recruiters are a valuable resource to businesses that don't have the time and resources to find qualified contract and contract-to-hire maybe project team members.
Before you start your IT or technical projects, find a recruiter that specializes in finding the right specialized contractors while providing comprehensive staffing solutions for your hiring needs. If you're staffing technical projects, CDM Technologies makes the process easy.
---
Chip Murphy is a co-founder of CDM Technology and has over 19 years in the IT consulting, contracting, and professional search service space.
CDM Technology is a customer-focused, premier provider of consulting, contracting and recruiting solutions for the IT, Digital Marketing, and Project Management markets. Each company's hiring situations is unique – that's why our use of personalized hiring solutions and a team-based approach take advantage of opportunities that your competitors can't. With over 30 years combined experience in the San Diego IT market and a broad network of top clients and candidates, when you tell us what you need, we put the right type of resource in front of you.