Interviews are stressful for everyone but are a special kind of torture for introverts and people who are accustomed to working alone. When pursuing new employment opportunities making a good first impression is critical, especially during interviews designed to make solid judgments on top candidates in a short period of time.
But don't despair, if you are an introvert you can still nail the interview by brushing up on the soft skills (aka people skills) that interviewers are hoping compliment the technical skills that got you the interview.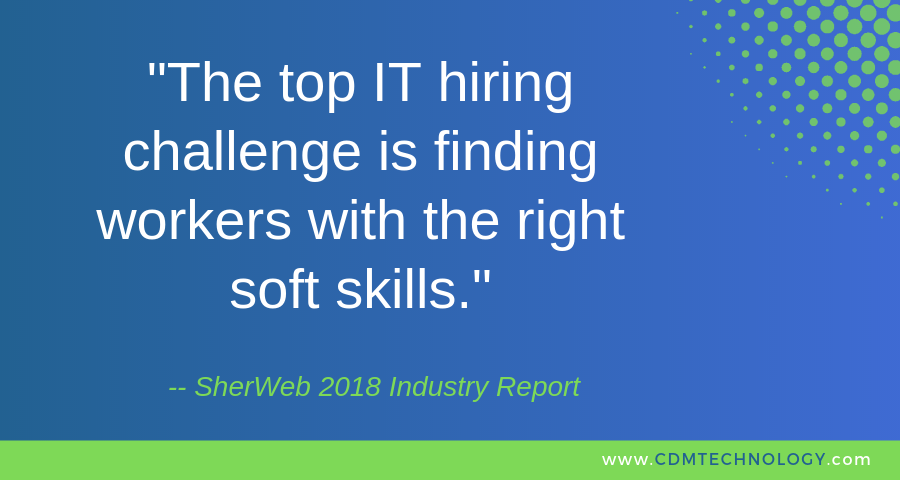 Being an Introvert Isn't a Bad Thing
In some studies, roughly half of people identified themselves as an introvert, so if you're one of them you are certainly not alone. Chances are that you'll encounter many more introverts in the tech field because generally the qualities that introverts possess lead to successful enterprises.
Typically, you'll find that introverts are detail-oriented and creative types who excel at working both independently and as part of a team. But traits such as extreme focus and shyness can come across as unenthusiastic or even standoffish. This can be frustrating when the introvert would perceive that they are being thoughtful and professional in that exact same scenario.
Soft Skills for IT Professionals
A strong resume or referral and your technical skills may have got you the interview, but it is your soft skills – the interpersonal skills that lead to effective working relationships – that form the interviewers' opinion of your suitability for the position. They want to know you'll be able to successfully interact with customers, colleagues, and managers while performing the job.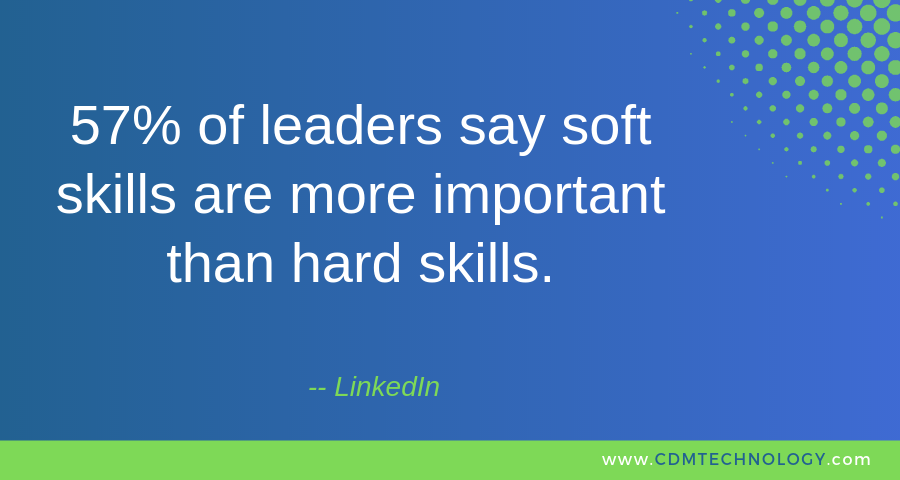 According to the U.S. Bureau of Labor Statistics, by 2020 employment in all computer occupations is expected to increase by 22%. That means a candidate's ability to not only fit in but contribute positively to a company's culture can have priority over hard tech skills as more and more highly trained IT professionals enter the workforce and compete for the same jobs.
TOP 4 SOFT SKILLS FOR IT PROFESSIONALS
IT professionals rarely get to work in a vacuum when hired to meet the needs of a team or project. If you possess any of these soft skills, make sure to include them when discussing how you can excel at the position you are interviewing for.
Communication – Effective verbal communication is as important as clear written communication when required to collaborate in teams or interact with clients and users. You should be able to take highly complex information and present it to anyone in or outside of your company in a way they can understand.
Creativity – Working in the tech field you need the ability to look forward and anticipate potential tech problems and needs. Creativity facilitates effective problem solving, and employers appreciate and rely on their team's ability to tackle problems from new angles and create unique solutions.
Listening – Active listening and the ability to uncover what the client or employer wants is important so you can give them exactly what they are asking for. Show you are engaged by repeating back what you got heard and asking clarifying questions.
Collaborative Mindset – Technical projects are rarely the work of one individual, but rather a team of professionals collaborating. This is where communication and listening skills are essential for getting your ideas across and understanding suggestions from others.
Time to Combine Your People Skills and Your Tech Skills
Instead of treating "introvert" as a bad word, focus on the soft skills hiring managers are looking for (that you may already innately possess) and let those shine during the interview. The interview is an opportunity to show you're the right person, right now for this position by highlighting your technical skills and demonstrating your soft skills.
Don't Miss:
NAILING THE INTERVIEW PT. 2 : Interview Tips for IT Introverts
---
Chip Murphy is a co-founder of CDM Technology and has over 19 years in the IT consulting, contracting, and professional search service space.
CDM Technology is a customer-focused, premier provider of consulting, contracting and recruiting solutions for the IT, Digital Marketing, and Project Management markets. Each company's hiring situations is unique – that's why our use of personalized hiring solutions and a team-based approach take advantage of opportunities that your competitors can't. With over 30 years combined experience in the San Diego IT market and a broad network of top clients and candidates, when you tell us what you need, we put the right type of resource in front of you.