Job hunting can be a full-time job, but for introverts, the hardest part can be the interview. You rocked the resume and with an interview scheduled it is obvious the employer trusts that you meet the minimum technical requirements of the job.
Now it's time to convince the interviewer that you are a good fit for their company culture and not just a good match for the job description.
This is Part 2 of the two-part Nailing the Interview Series. Click here to read NAILING THE INTERVIEW PT. 1 – Interview Soft Skills for IT Introverts.
Introvert Skills That Make Introverts Great Employees
Many of the most successful people you've ever heard of are introverts. From Bill Gates to Gandhi, you'll find introverts who were able to master the soft skills needed to lead and influence others. Here are just some of the skills that make some introverts so successful:
They're great listeners
They appreciate concise communication
They make decisions carefully
They strive for focus and are less distractible
They are self-motivated
They can work alone and with less hand holding
Remember, you shouldn't go into an interview believing being an introvert is a negative thing. Instead, focus on the soft skills hiring managers are looking for that you may already innately possess and let those shine during the interview.
5 Interview Tips for IT Introverts
1. Be Ready to Handle a Little Small Talk
Even if you wish you could walk in a room and just answer interview questions, it doesn't work that way. You will need to talk to people, make eye contact, and react appropriately to the small talk that happens between the time you walk in and out of the building.
First impressions weigh heavily on how you are perceived and treated during the interview. If small talk is a struggle for you, be sure to come prepared with a friendly attitude and a few throwaway comments about the weather or something equally vague but positive when waiting for the interview to begin. More focus on these human interactions lets the interviewer know that you are engaged from the start.
Small Talk Examples:
"I'm excited the spring weather is coming soon."
"These offices are beautiful. Have you been at this location a long time?"
Small talk might seem pointless, but the interviewer is taking cues on how you are going to interact with other employees and clients from the first second they see you. So be sure to engage your confident posture and friendly disposition as soon as you enter the building to demonstrate that you're capable of working with people in person.
2. Highlight the Positives of Your Personality
Mentioning that you are introvert is a smart move that could save you from getting hired to a position that is not a good fit. But don't treat it as a negative. A dedication to getting things done the right way, creative approaches to problem-solving, and empathetic listening skills are all by-products of your introverted nature that should be highlighted.
The dreaded "What is your greatest strength?" and "What is your greatest weakness?" questions are a good time to bring up that you are somewhat of an introvert, how you best engage with people, and what strengths you bring to this position.
3. Do Your Homework
Interviews for some jobs don't require a lot of research. But if you want to stand out for the best tech jobs, then you need to do your homework. Research the company on their website and dig into the "About" section to learn the company mission and get information on the major players. You can also dive deeper and do an online search for press releases and news mentions and then take a few moments to look at the company's top competitors to familiarize yourself with the space you'll be working in if hired.
But don't stop there. If you are working with a recruiter, get information on the company culture and ask what you should expect during the interview. When possible, get the names and titles of the people you'll be meeting with for further research. Having all this information will help you better visualize the upcoming interview and relieve some of the stress of the unknown.
Before the interview is also a good time to look at common interview questions and do some practice runs in the mirror while taping yourself with your phone. This might be the most awkward thing you've done in a long time but seeing yourself how an interviewer will see you will help you correct any eye contact or body language issues before the big day.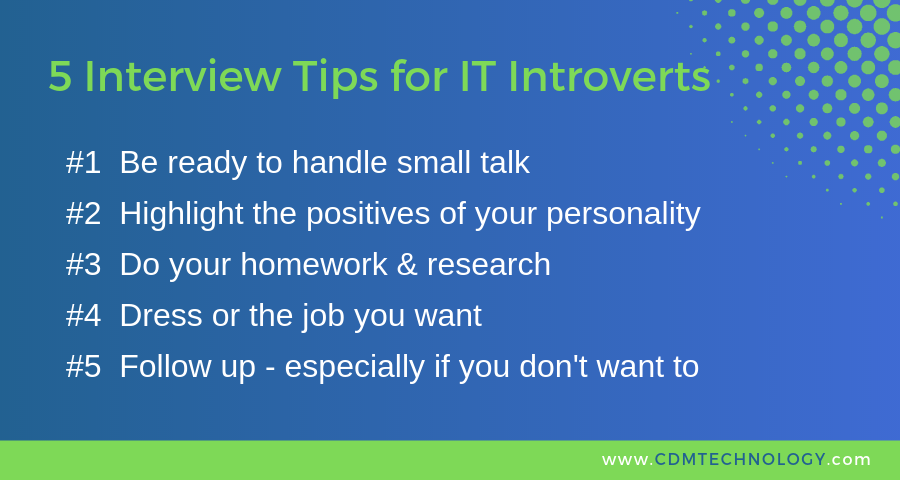 4. Dress for the Job You Want
We're all being judged on how we look when we meet new people and unfortunately how we present ourselves speaks louder than a resume ever could. Dressing appropriately and taking pride in your appearance puts your best self in front of the interviewer and shows your confidence in the belief that you are the right person for this job.
With the rise of online companies, startups and telecommuting positions, old school mandatory tie or skirt rules no longer apply. If you've been working from home or the coffee shop or it's been a while since you've been in an office, it can be hard to gauge whether you need to dust off the one suit you own or throw the dark jeans in the dryer to get the wrinkles out.
The company website should give you some clues if it includes any photos of the people that work there. If you see suits with no ties, then bring out the slacks and button-ups. If it's all t-shirts and hoodies in the team members' photos, then you know a more "startup casual" vibe is appropriate, and you can pull out a nice polo shirt or blouse to go with your best khakis or jeans.
Just remember that it is better to be overdressed than underdressed. When the interviewer first sees you, it should be clear from your smile to your shoes that you care about the outcome of this meeting.
5. Follow Up After
Even If

ESPECIALLY If You Don't Want To

Interview follow-up is a place where extroverts inevitably outshine other candidates. As an introvert, you're probably well practiced at avoiding anything that comes close to self-promotion, attention-grabbing or possibly leading to rejection which means no follow-up call or thank you email will be forthcoming. And that is a mistake.

Before you leave your interview, ask when you will hear about a decision. If that date has come and you haven't heard anything, it is time to follow up.

Look at the follow up as an opportunity to demonstrate your positivity and eagerness for the position. They will also see that your introverted personality doesn't stop you from communicating when it's needed. Whether you call or email, take time to thank them for the opportunity and point out any strengths you possess that make you the best person for this position.
Benefit from the Interpersonal Skills Gap in IT
Hiring managers and recruiters are suffering through a true soft skills gap at a time when these interpersonal and people skills are taking priority over resume bullet points to when seeking successful hires.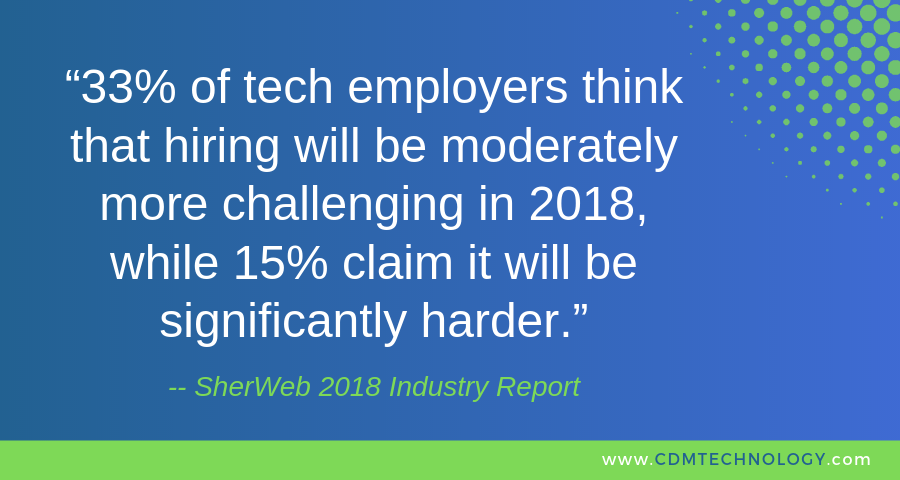 If it gets overwhelming just keep it simple and remember what is on your resume, keep a mental list of your accomplishments and approach the in-person interview with a positive mindset. With that mantra and the tips above the interview process becomes less intimidating and the best version of you shines through.
Working with an established recruiter who knows how to meet the challenge of matching candidates to opportunities where they can excel can make all the difference. And by working on your soft skills and learning how to communicate them in person, you will nail the interview.
This is Part 2 of the two-part Nailing the Interview Series. Click here to read NAILING THE INTERVIEW PT. 1 – Interview Soft Skills for IT Introverts.
Chip Murphy is a co-founder of CDM Technology and has over 19 years in the IT consulting, contracting, and professional search service space.
CDM Technology is a customer-focused, premier provider of consulting, contracting and recruiting solutions for the IT, Digital Marketing, and Project Management markets. Each company's hiring situations is unique – that's why our use of personalized hiring solutions and a team-based approach take advantage of opportunities that your competitors can't. With over 30 years combined experience in the San Diego IT market and a broad network of top clients and candidates, when you tell us what you need, we put the right type of resource in front of you.