Recruiting for Remote Technical Teams
Small businesses and startups with strong technical cores are competing with well-funded multinational organizations for the same talent, and a remote workforce is one way of leveling the playing field. With access to a larger talent pool, smaller companies can source new employees globally in a more cost-effective way.

An added benefit to recruiting remote candidates is the flexibility to offer less traditional employee agreements where workers are freelancers, contractors, or flex workers who can work anywhere in the world. So, let's how to make your company more attractive to remote workers and the traits you should be looking for when recruiting.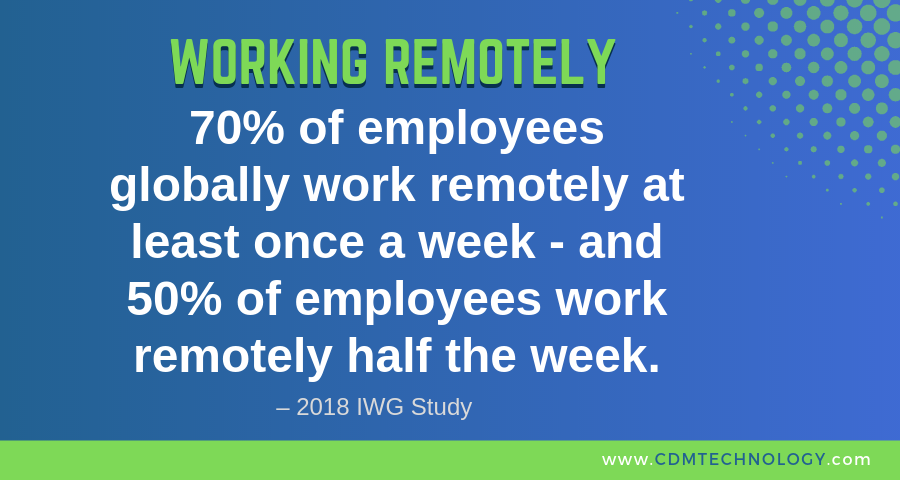 Making Your Company Attractive to Top Talent for Remote Recruiting
A reputation as a good employer goes a long way in attracting top talent to your remote teams. Candidates have to rely on your digital presence and online reputation to decide if they want to apply for your open positions.
One factor contributing to your company's reputation is websites like Glassdoor and Indeed that let current and former employees rate their experiences with a business. Outside of actually being a great place to work and inspiring deep loyalty from your employees, you have little control over what is being said on the employer rating sites that job seekers read. So control what you can control by building more online real estate where you control the message. Do that by creating career pages, job postings, and social media accounts that show remote workers what it's like to work with you.
Make it easy for someone to understand what your company does and why you do it. Showing your passion for and commitment to the mission of your organization makes employees want to join the journey. Detail the flexibility you offer to your employees and give prospective applicants a glimpse into a typical day if they were to join your team.
The people over at Buffer do a fantastic job of displaying the benefits of joining their remote-first company – check out their "Join the Buffer journey" page.
Gather and publish testimonials from your remote workers. Get your happy team members to write or record their stories. Ask them why they work remotely and why they stay with your company. Add these to your career page, post them in your blog, or add employee interviews to your podcasts. Don't forget to promote this content on social media and add them to relevant job postings.
Highlight the benefits remote workers appreciate in addition to traditional compensation packages. All employees want to find work that includes traditional benefits such as vacation plans, health insurance, and professional development. But if you want to compete for top candidates in the global remote pool of talent, you'll highlight special benefits for remote workers. Memberships at coworking spaces, a new computer or annual retreats are huge incentives to join your company over others. More inexpensive options include gift cards for beverages at coffee shops and annual stipends for equipment. Think about things like noise-canceling headphones for those who work from local cafes or standing desk for those who work from home offices.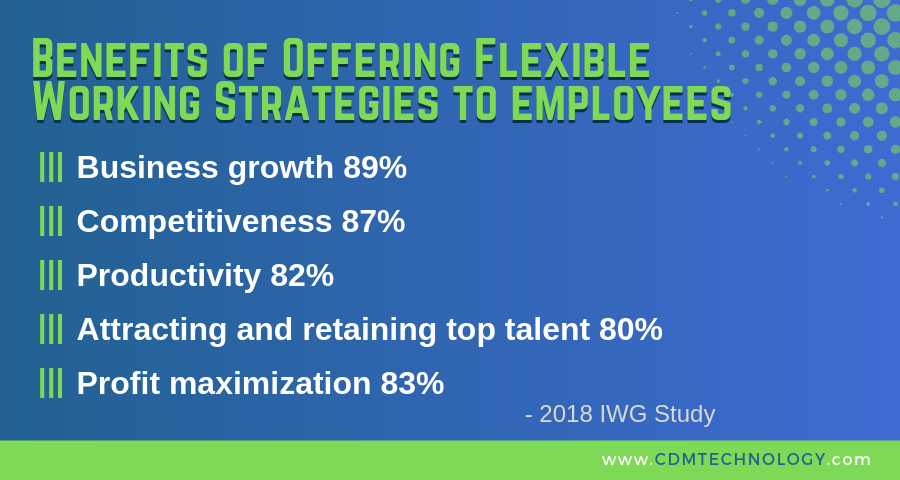 What to Look for When Recruiting for Remote IT and Technical Teams
Whether you are downsizing a physical office, adding remote workers to grow your team, or building your business from scratch with an all virtual workforce, you need to know what to look for to recruit the right remote candidates. There are certain characteristics and personality traits that help qualified technical candidates not only get the job done with no in-person supervision but excel in a remote working situation.
CHARACTERISTICS OF SUCCESSFUL REMOTE TEAM MEMBERS
1. SELF-STARTERS… don't need someone with them to make sure they stay motivated and on task.
2. RESPONSIVE… understand the need to be punctual, meet deadlines, and respond quickly to communication.
3. PROBLEM SOLVERS… see the big picture and troubleshoot without asking a ton of questions.
4. DETAIL ORIENTED… perfectionists who have a personal standard (higher than company standards) to meet to feel successful.
5. DISCIPLINED… able to set deadlines and follow-through while avoiding distractions and burnout.
6. BETTER THAN AVERAGE COMMUNICATION SKILLS… can concisely and clearly communicate processes, updates, ideas, questions, and answers through email and phone conversations.
7. TEAM PLAYERS… empathetic collaborators who want to work with a team that has common goals and values.
8. RESULTS-ORIENTED… workers who are invested and measure the workday by accomplishments and not by the hours they clocked.
9. OPTIMISM… able to navigate stressful situations, stay motivated, and transforms failures into lessons learned.
10. TECH-SAVVY… proficiency in cloud storage, collaboration applications, project management software, and other online tools that keep your remote team connected.
Hiring Remote Staff vs. Hiring Offshore Development Teams
Trusting that your remote hires won't mess up your business can be a stumbling block for remote recruiting, especially when adding the option of offshore development teams into the mix. There are many potential risks when outsourcing your technical projects to overseas countries, but the allure of substantially lower wages can be hard to resist.
Software development managers have widely criticized the use of offshore development teams because the quality tends to go down on important developments. There are always going to be foundational and critical projects you are going to want to develop "in house" with your core team. Building a quality "in house" core team would avoid offshore development teams and focus on having an internal infrastructure in place that offers your team of remote developers the attractive perks and powerful tools that make communicating effortless.
When your company and the offshore company are located on opposite sides of the planet, it can be hard to catch each other online and successfully communicate. It's more likely that an offshore team would prefer to avoid communication issues rather than solve them, and cultural differences can further hamper effective communication between your business and offshore development teams.
Dealing with offshore development teams also include financial risks that can be avoided by recruiting your own team of remote technical staff. Payments and money transfers to offshore companies can create security and transparency issues when dealing with tax authorities who are actively searching for falsified invoices shady companies use to avoid taxes. You'll have to check for legal documentation with proven and revealed identities, so you aren't caught up in international finance issues just because you're sending money offshore.
Recruiting for Remote Technical Teams Starts with the Job Posting
Working remotely requires a certain set of skills, so the generic job posting you use to attract local talent isn't going to be enough to recruit top talent. Make sure your job postings include a detailed listing of the responsibilities of the position in addition to what your company does and why. If a long job posting is a turn off for a job seeker, they probably weren't the right person for the job. You only want applicants who are invested in being a part of your company.
You can also take it a step further and qualify applicants by asking that they answer a question instead of sending the standard cover letter with their resume. For example, if you're hiring for a front-end developer position, ask in the job posting that applicants include a short paragraph on what they would change or improve about the UX and design of a well-known website that serves the same audience as yours. Not only will you see how well applicants follow instruction, but you'll also get insight on how the applicant processes the available information, finds solutions to problems and communicates their ideas.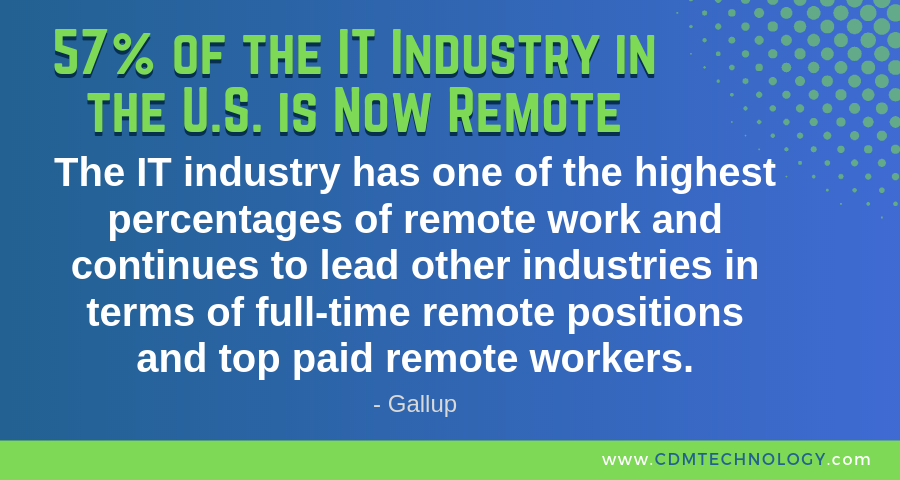 Hiring the Right Candidates for Your Remote IT and Technical Positions
Hiring remote workers for computer-based work has become increasingly popular. In 2015 Indeed reported that candidate job searches containing the term "remote" had risen 85% in two years. It's clear that candidates are looking for remote work opportunities and adding remote positions to your company can yield high returns, but the key is to hire the right people.
Recruiting remote workers can be difficult, especially if your company is new to employing out-of-office employees. Fortunately, some recruiters specialize in finding the right candidates for your technical and IT positions. Whether your staffing your physical location or building a remote team, working with an experienced recruiter who knows the industry is the easiest and smartest way to make the right hire.
---
Chip Murphy is a co-founder of CDM Technology and has over 19 years in the IT consulting, contracting, and professional search service space.
CDM Technology is a customer-focused, premier provider of consulting, contracting and recruiting solutions for the IT, Digital Marketing, and Project Management markets. Each company's hiring situations is unique – that's why our use of personalized hiring solutions and a team-based approach take advantage of opportunities that your competitors can't. With over 30 years combined experience in the San Diego IT market and a broad network of top clients and candidates, when you tell us what you need, we put the right type of resource in front of you.